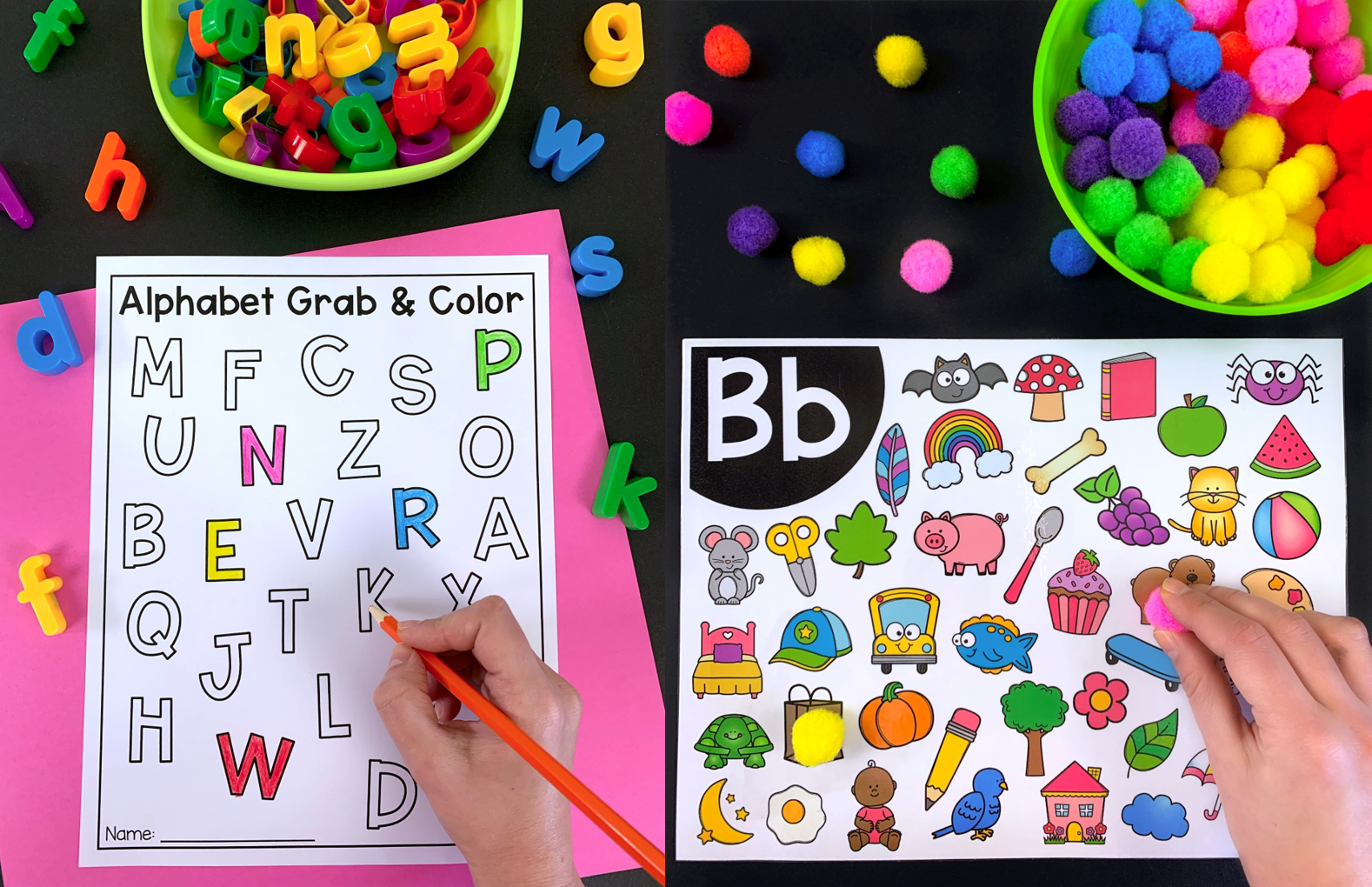 Hey friends!

I've just finished creating a huge, interactive phonics and alphabet packet for little learners and am super excited to share it with you all. Packed full of phonics games and alphabet activities, this comprehensive activity set is perfect for pre-k and kindergarten students.

I'm a strong believer that phonics and the alphabet should be taught hand in hand from the start. This is super important because letters should not be taught in an isolated way; learners should also be taught the sound that these letters make. Including a fair balance of both early on provides learners with a stronger context and can deepen their recall of the letters of the alphabet and vice versa. Plus, it can get them reading sooner too!

Phonics Games and Alphabet Activities
This phonics packet is filled with so many activities to help your students practice and learn single sounds (beginning sounds, medial sounds, final sounds), letter recognition, letter formation and lower/uppercase letter identification.

1. I Spy Mats
These I-Spy mats will have your students giddy with excitement. Students will have to get their detective on to find all the pictures that match the beginning sound shown on the mat. Students circle the pictures with erasable marker or cover them with small objects such as pompoms, mini erasers, buttons or blocks. There are 26 included in total; one for each letter of the alphabet.

2. Alphabet Grab and Color
I have always found that students need LOTS of practice with uppercase letters. Even when they've learned all of their single sounds, when you show them the uppercase version of some of these letters, many of them are stumped. This activity is a fun way for students to practice identifying uppercase letters with just magnetic letters. Students grab a letter and then color the corresponding uppercase version of it. There are 3 sheet options included (lowercase, uppercase and mixed) to allow you to differentiate the activity easily. If your students are still focusing on basic letter recognition, have them draw out letters in the same case (e.g. lowercase). If you would like them to work on their uppercase letters, then have them draw out a lowercase letter and find the matching uppercase letter.
3. Letter Identification

These little alphabet mats are super adorable and practical too. They feature both lower and uppercase letters in a variety of fonts to help students recognize letters in a variety of contexts. Students use small objects to cover the letters. If you have access to jumbo tweezers, like the ones in this photo, they are perfect to help develop fine motor skills at the same time.

4. Beginning Sound Cards

This activity is another great way for students to practice their single sounds. Using erasable marker or magnetic letters, students match the pictures to their beginning sound. There are 51 cards included in total.
5. Make and Trace Mats

These mats can be used in SO many different ways. Students can fill the letters with playdough, beads, mini erasers, pompoms, buttons or anything else that you can think of. If you don't want to laminate them, simply pop them into some write and wipe sleeves to make them reusable. I've included some black and white options too if you want a version that is ink-friendly.
6. Middle Sound Cups

There is something about the cups that makes this activity a little extra special. To complete this phonics game, students sort the CVC picture cards by their middle sound. The packet also includes a version with words (e.g. c_t) to help your students identify the pictures easily if they are having trouble. You could also replace the cups with bowls or zip-lock bags instead.

7. Ending Sound Puzzles
We've done beginning and medial sounds, so we can't forget ending sounds. Now, I must say that I am in LOVE with these puzzles. They are so much more fun than a worksheet and when kids are having fun, they are learning! There are 14 puzzle cards included and all students need to do is match the pictures to the ending sounds to complete the puzzle.

8. Match the Letter
This is another letter matching alphabet activity that can be used to match lower and uppercase letters together OR to match same letters of the same case together depending on where your students are at. You can use magnetic letters or erasable marker to complete this activity.
9. Sound Match
I created these sound mats as an easy way for students to practice their single sounds. There are mats included for beginning, middle and ending sounds so that you can easily differentiate the activity for your students.
10. Clip the Letters
Here's the lucky last alphabet activity! This one is great for letter identification and fine motor skills too. Students clip the letters that the match the top letter. There are 52 letter strips in total and one for each lowercase and uppercase letter of the alphabet.
BONUS Alphabet Charts
I've added these alphabet reference charts to the pack too! They are designed for students to refer to when completing the activities if they get stuck. They are half-page so you can just slide a couple in with each activity!
I had so much fun making these phonics games and alphabet activities that I'm already noting down ideas for a CVC version too.
If you would like to purchase this packet, you can find it here or click on the link below.