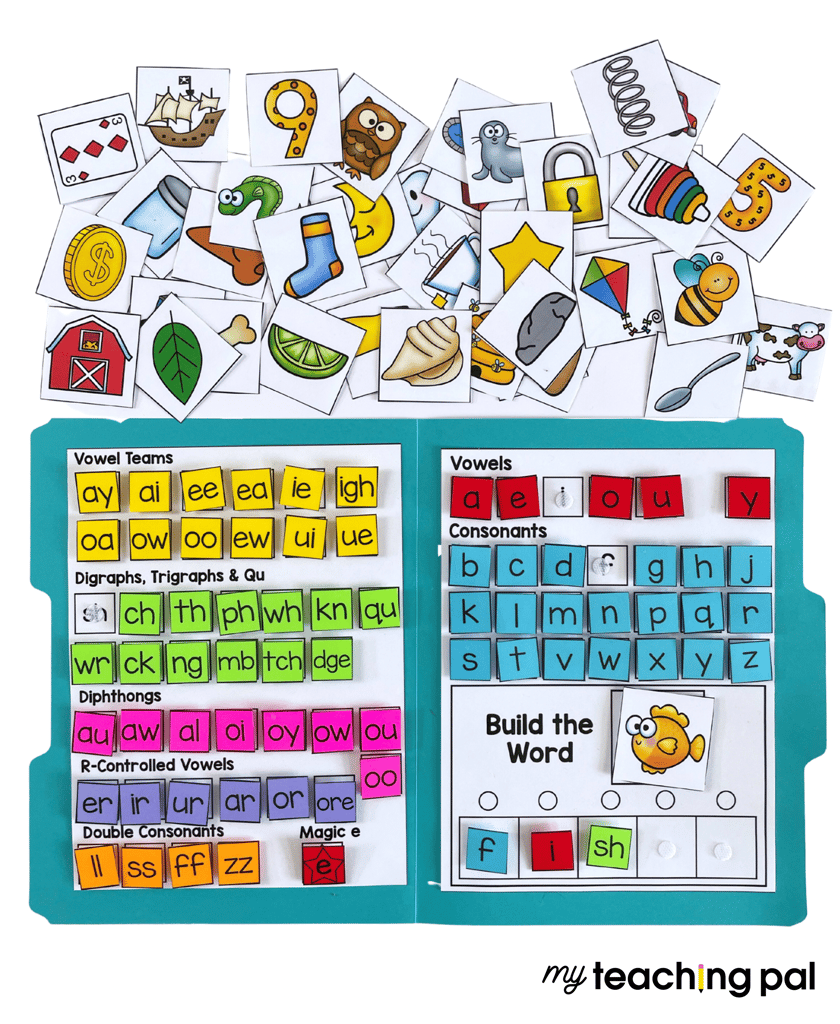 Are you searching for a spelling activity that is designed to help your students become better spellers? The Word Builder Folder is crafted to follow the science behind reading and spelling to help improve word retention as well as decoding and encoding skills. It's important to provide students with phonics activities that are rooted in the Science of Reading to ensure that students become successful readers and spellers.
The Word Builder Folder gives your students the opportunity to practice spelling words related to a specific phonics concept. A variety of different sounds are included which means that you can use this spelling activity all year round as you teach new phonics skills. There are over 600 picture cards included for:
CVC Words
CCVC And CVCC Words
Digraphs
Trigraphs
Magic E Words
Vowel Teams
Diphthongs
Double Consonants
R-Controlled Vowels
Hard/Soft G And Hard/Soft C
This variety of skills makes it perfect for differentiation; all your students can be working on the same activity, modified by skill level.
How Does the Word Builder Spelling Activity Improve Spelling?
The Word Builder Folder has students map words when spelling them which can lead to permanent storage of these words, also known as orthographic mapping. Orthographic mapping refers to "the mental process we use to permanently store words for immediate, effortless retrieval. It is the process we use to take an unfamiliar printed word and turn it into an immediately recognizable word" (Kilpatrick, 2015). Once a word is orthographically mapped, it becomes a "sight word." The more "sight words" we have stored, the more fluent our reading becomes.  The orthographic mapping process is not the same as the old way of teaching "sight words" where students are asked to visually memorize the shape of a word. This outdated method has been shown to be ineffective and detrimental to reading success. Orthographic mapping involves a number of other skills, including making links between phonemes (sounds) and graphemes (letters).
You can learn more about word mapping and the orthographic mapping here.
How to Use the Word Builder Spelling Activity?
The Cards
The cards are organized by phonics area (e.g., CVC words, digraphs, etc.). Use library card pocket envelopes or zip lock bags to store the picture cards. For easy retrieval, you can also divide the cards into sounds (such as sh, ck, th).
Using the Activity
Students choose a picture card and place it onto the square.
Next, they tap the circles with their finger as they sound out the sounds they can hear in the word.
Finally, they spell the word by attaching the letter tiles to the board.
This science of reading aligned resource will be your go-to resource to provide explicit phonics instruction and meaningful practice. With over 600 picture cards included, the Word Builder Folder can be used as a spelling activity throughout the year to help improve decoding and encoding.
Shop the Word Builder Folder using the link below.