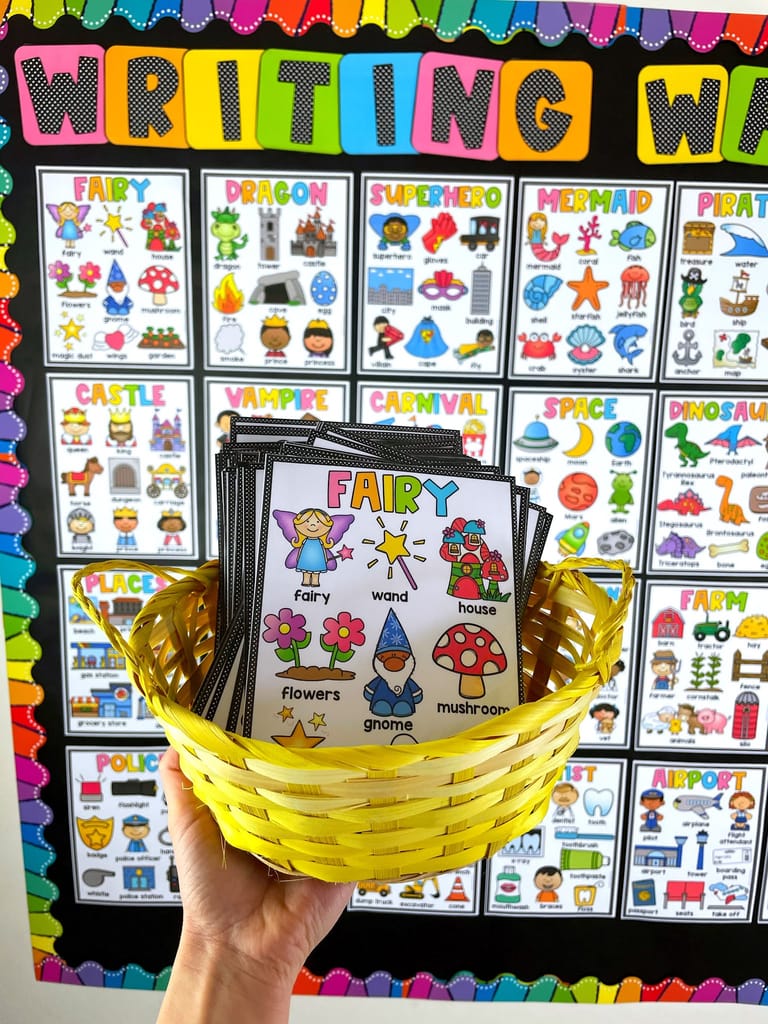 Hello friends! I am super excited to share this set of vocabulary charts with you all. Using vocabulary charts within your classroom has many great benefits.
Picture-based vocabulary charts and word walls provide visual support for students which is handy when their reading skills and vocabulary bank are still developing. If they need a new word, they can head over to the vocabulary wall for assistance. Also, the vocabulary charts are handy for ESL students who are still learning new English words and need picture references. By immersing our little learners in new vocabulary, we are strengthening their ability to expand both their writing and speaking skills.
Here are some different methods showing how you can use these vocabulary posters in your classroom.
How To Use Vocabulary Charts
These vocabulary charts come in both a full page and half page size option so that you can use them in multiple ways. There are over 75 different themed charts! Below, I have shared a few helpful ways to use vocabulary charts in your classrooms.
A Word or Writing Wall
You can use these vocabulary charts to create a word wall, writing wall or other themed wall. Having a visual word wall provides a reference point for students. When they need a new word, they can head over to the word wall and note it down. Keep a set of mini whiteboards near the word wall so that students can write down the word they need and head back to their desks.
Also, when putting up vocabulary charts on your bulletin board, a handy tip is to use velcro so that you can easily change out the different cards as needed!
You might even like to use the charts to play games like charades. The possibilities are endless!
Writing Inspiration
When writing, it can become difficult for students to find a topic for inspiration, especially during a writing unit where students are consistently asked to invent various stories. You can use these vocabulary charts as a way to encourage and inspire creative writing ideas. Try keeping a stack of them in a little basket near a writing center; that way, you can easily pull out a card to assist with narratives, personal narratives, or recount writing. Sometimes, all students need is a little inspiration to help them get going. And, it is great for encouraging them to construct a themed story based on the provided vocabulary.
Sentence Writing Center
With this resource, a sentence writing worksheet is also included for students to practice using vocabulary from the charts. Having access to a wider range of vocabulary helps our students with words they wouldn't typically use in their writing. This activity would be perfect for Kindergarteners and First Graders.
EAL/D Support
Themed vocabulary charts also play a crucial role in supporting your ESL students by exposing them to a wider range of words. Aiding your students in learning new vocabulary is critical for English language development. The visual nature of the charts help bridge the relationship between oral and written language. They can also assist in clarifying the meaning of unknown words.
Vocabulary charts can be used in various different ways. Our goal is to help your little learners become strong writers by explicitly teaching the necessary skills and strategies they need as they continue through school. This bundle can be used with various grade levels and can be differentiated for your classroom needs. These vocabulary charts are no-prep. Just print and go!
Click on the link below to check them out 🙂