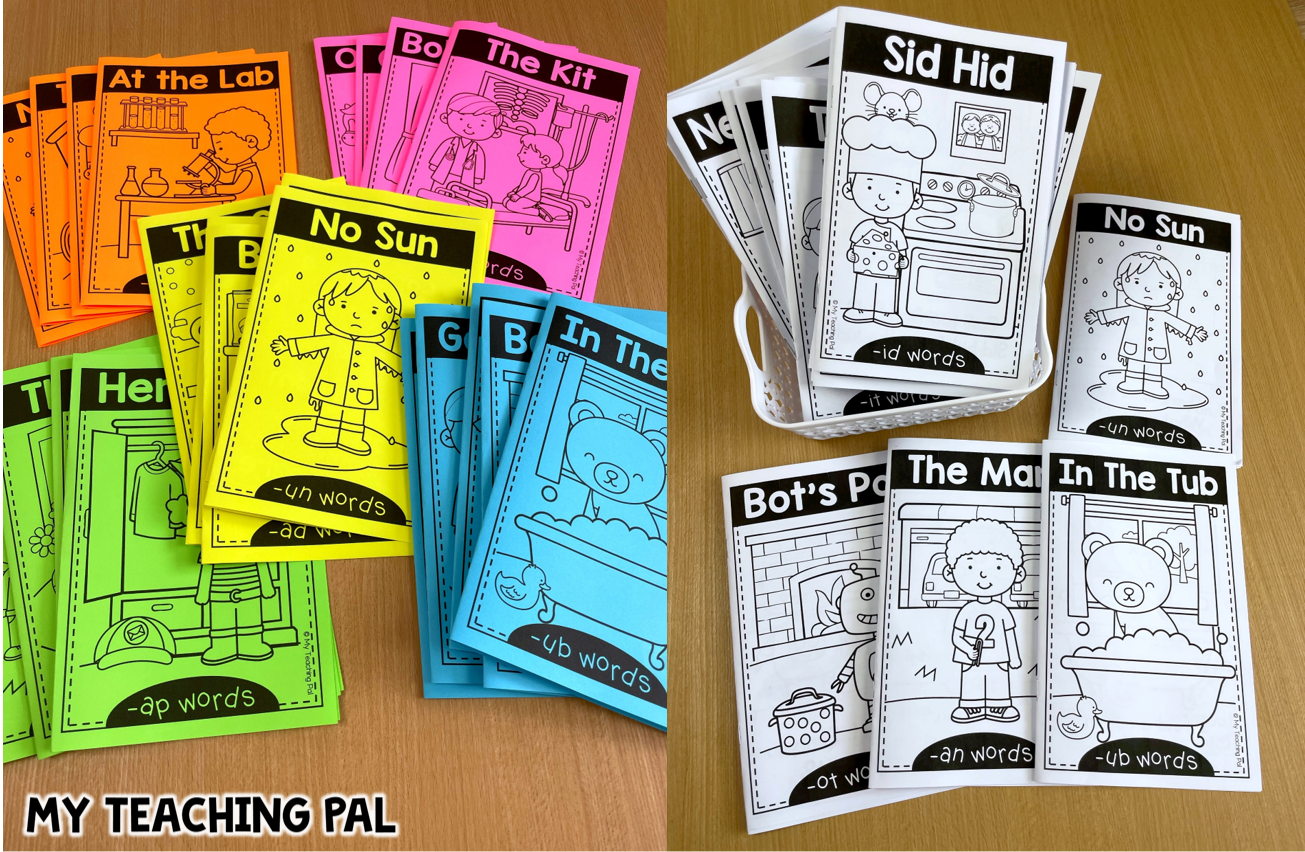 After many months of careful preparation, this set of decodable readers is finally here and ready for you all!
This huge bundle includes decodable books for short vowels, digraphs, long vowels, blends, diphthongs and r-controlled vowels. They are designed to help your students learn how to decode and blend words whilst building reading fluency. Each decodable text is based upon a different letter-sound combination which will make these readers fit seamlessly into your reading and phonics programs. If you'd like to check it out, here is the link:
Phonics Decodable Readers – BUNDLE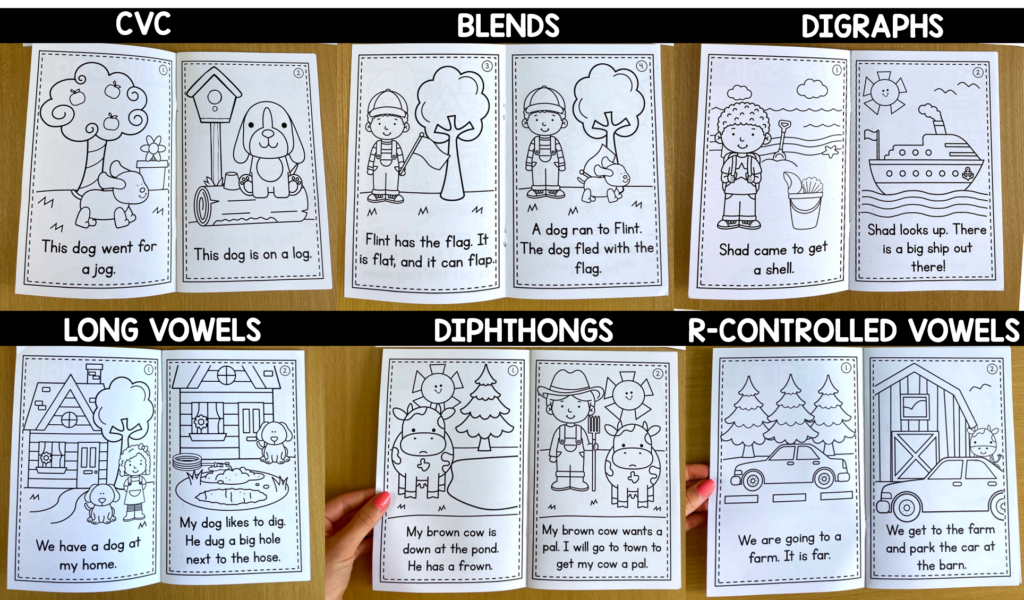 Now, are you ready to hear the very best thing about these readers! EVERY READER COMES IN
2 LEVELS! That means that differentiation is going to be super easy for you. Let me show you how the readers are leveled:
Level One Readers
Fewer words

More patterned text

Smaller range of high frequency words

Smaller range of sound knowledge required
Level Two Readers
More words

Less patterned text

Larger range of high frequency words

Larger range of sound knowledge require
Furthermore, all the readers include a pre-read page at the back which will allow your students to have a go at decoding the words PRIOR to reading which can help increase fluency.
Also, each reader comes with a set of comprehension questions too!
Here is a list of all the readers included:
SHORT VOWELS
My Cat – (at)
Her Map – (ap)
The Man – (an)
Bad Lad – (ad)
I See Mag – (ag)
The Jam – (am)
At the Lab – (ab)
Ned is Fed – (ed)
The Hen – (en)
Get a Pet – (et)
Sid Hid – (id)
Pig's Wig – (ig)
It is a Fin – (in)
Dip Lip – (ip)
The Kit – (it)
Bob's Job – (ob)
This Dog – (og)
The Cop – (op)
Bot's Pot – (ot)
On a Rug – (ug)
No Sun – (un)
The Nut – (ut)
In the Tub – (ub)
DIGRAPHS
The Ship – (sh beginning)
Fish Wish – (sh ending)
Chen's Chest – (ch beginning)
At Lunch – (ch ending)
The Thorn – (th beginning)
A Path – (th ending)
Hot Weather – (th hard)
Sick Rick – (ck)
Whisk It – (wh)
The Quiz – (qu)
A Wreck – (wr)
Knit It – (kn)
My Phone – (ph)
Its Wing – (ng)
In the Junk – (nk)
BLENDS
The Branch – (br)
In the Crib – (cr)
My Dress – (dr)
Gran's Grub – (gr)
Print It – (pr)
She Trips – (tr)
Fred the Frog – (fr)
Blend It – (bl)
My Clam – (cl)
Flint's Flag – (fl)
Glum Glen – (gl)
The Plums – (pl)
Sled Slip – (sl)
His Scrubs – (sc)
Skip and Skid – (sk)
Smocks – (sm)
Snap It Up – (sn)
Spot Spins – (sp)
The Sting – (st)
A Swan – (sw)
LONG VOWELS
At the Lake – (a_e)
A Snail – (ai)
The Bay – (ay)
Neal the Seal – (ea)
The Bee – (ee)
Her Baby – (-y)
A Joey – (ey)
Bike Ride – (i_e)
Up High – (igh)
Pat Lies – (ie)
I Spy – (-y)
In the Hole – (o_e)
On a Boat – (oa)
Mow It – (ow)
Cute Pet – (u_e)
New Nest – (ew)
It's a Goose – (oo)
The Glue – (ue)
DIPHTHONGS
Launch It – (au)
At Dawn – (aw)
The Oink – (oi)
Crew Drew – (ew)
At the Zoo – (oo)
The Book – (oo)
A Mouse – (ou)
My Cow – (ow)
The Crow – (ow)
Troy's Toy – (oy)
R-CONTROLLED VOWELS
The Fern – (er)
In the Dirt – (ir)
Bad Burn – (ur)
The Storm – (or)
Sore Leg – (ore)
At the Fair – (air)
Scare Him – (are)
His Fear – (ear)
HOW TO PREP:
The readers are designed to be printed double-sided. No cutting is required, just folding and stapling. Full printing instructions are included in the packet. Also, the readers are black and white so they are super ink-friendly. You can print them on colored paper or on standard paper.
WHY DECODABLE READERS?
The great thing about decodable readers is that they place the reading focus onto words that are currently being taught so that students learn to rely on their phonics skills to decode the text rather than on other clues such as 'guessing' and pictures.
HOW CAN YOU USE THEM?
Guided Reading

EAL/EAS Students

Interventions

Home Reading Books

Special Education
THEY WILL HELP TO DEVELOP:
Decoding and Blending Skills

Phonics Skills

Sight Word Knowledge

Vocabulary

Fluency

Comprehension
If you'd like to check out the bundle, here it is: