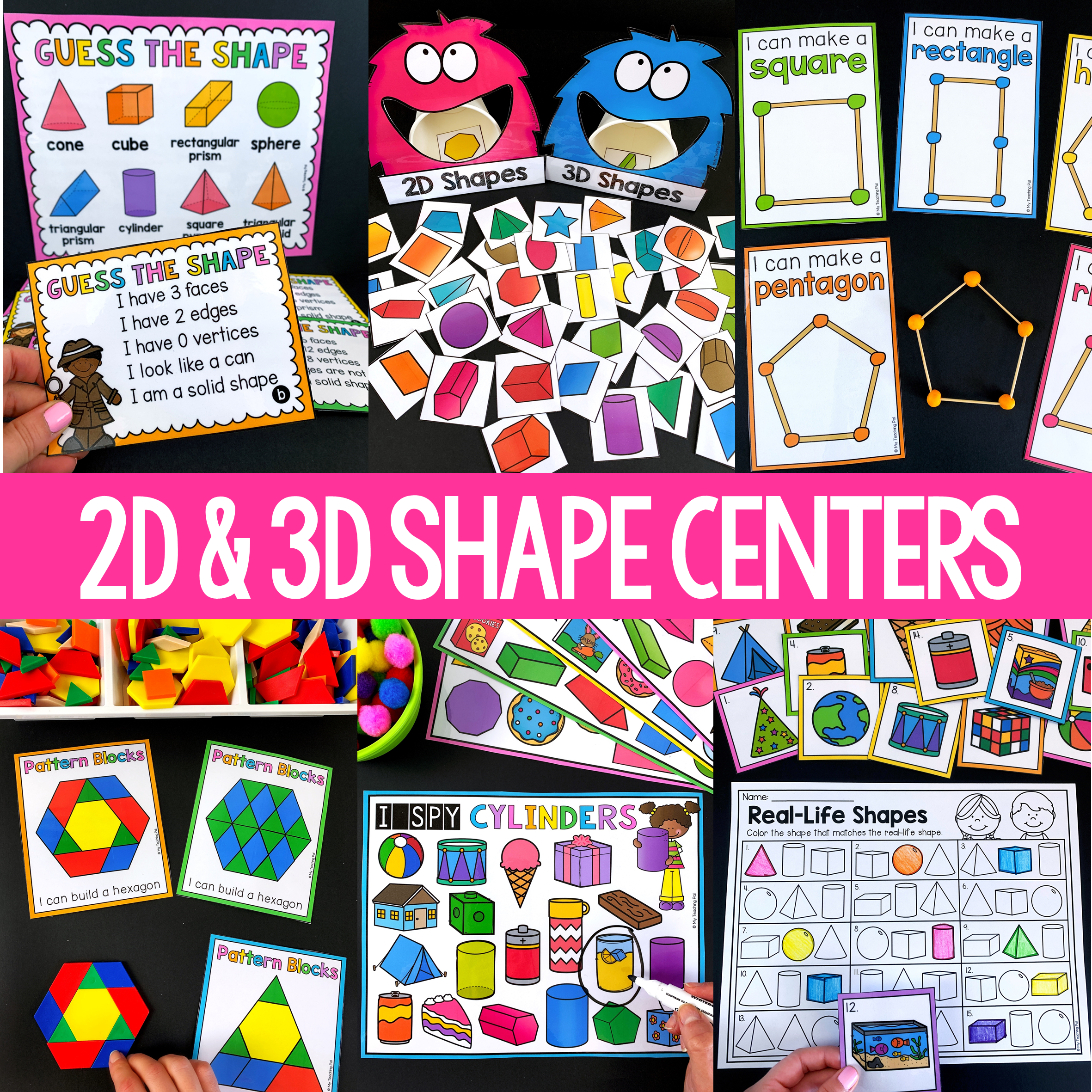 I've been working hard to put together these 2D and 3D shape games and centers for you. Working with shapes is such a hands-on learning area, so I've made sure to fill this packet full of fun and interactive activities for you to use with your students to have them mastering all things related to 2D and 3D shapes.
The Activities
This packet features 12 different 2D and 3D shape centers which are designed to provide students with hands-on geometry experience. Where applicable, the activities come in both a 2D and 3D version to ensure that you always have a vast array of resources to use with your students.
1. I Spy Shapes
If there is anything that little learners love, it is getting their detective on! This activity is exactly like the 'I Spy' game that we have all grown to love but it's a shape version of it! To play, students search for the objects that match the shape shown at the top of each mat and circle them with erasable marker or cover them with blocks, mini-erasers, pom-poms or other small objects. There are mats included for circles, squares, triangles, rectangles, pentagons, hexagons, octagons, cubes, cones, cylinders, square pyramids, rectangular prisms and spheres.
2. Pattern Block Cards
These pattern block cards are a fun way to help enhance your students' visual skills while building their geometric imagination. To play, students build the shapes using pattern blocks. As an extra challenge, there are blank shape cards included too so that students can use their imagination and build their very own shapes. These bonus cards also double up as a fun STEM challenge too!
3. Shape Clip Cards
These Shape Clip Cards are a simple way for students to explore shape properties. Exploring the properties of shapes helps to develop students' observational skills which they can then transfer to other areas. There are both 2D and 3D clip cards included. These clip cards pair well with mini-clips which you can find on Amazon, eBay or at your local dollar store.
4. Spin a Shape
Shape identification is an early skill that young learners needs to practice. Although this seems like a simple activity, students will be required to use their visual discrimination skills to locate shapes. It will require them to distinguish between the forms of different shapes and can help them hone into the attributes that various shapes have. Both a 2D and 3D version is included.
5. Shape Monsters
Okay, can I just begin by saying, how darn cute are these little monsters. Your students will love feeding the monsters the specific shapes that they enjoy eating the most! I attached these monsters to paper cups with tape so it was actually super easy to set up. If you don't have cups, you can use bowls or small boxes too. To play, students sort the shapes by whether they are in 2D or 3D form. This is another activity that is important for visual discrimination. I have also included alternate labels here for the words 'flat' and 'solid' just in case you prefer to use this terminology instead.
6. Real Life Shapes
This activity also comes in both a 2D and 3D version and can help students accurately perceive shapes in their everyday world. To play, students choose a picture card and then color the shape that resembles this card. If students are completing this activity in small groups, I suggest reminding them that they can begin from any card (i.e. they do not need to start from the first card).
7. Shape Identification
I've included an extra shape identification activity as this one will have students discriminate between shapes in an alternate way. Each shape mat features shapes of different colors and sizes which can help students to further visualize the attributes of various 2D and 3D shapes.
8. Pattern Block Mats
This blank pattern block mat is ready for your students to fill with creations derived from their little imaginations. As an extra challenge, you can have them build a specific picture such as an animal, vehicle, type of food etc. Such a simple activity with endless possibilities!
9. Shape Puzzle
These shape puzzle cards will have your students match shape names and shape properties to a number of different shapes. There are puzzles included for both 2D and 3D shapes.
10. Guess the Shape
I just love detective activities because they are so much fun! This fun, little center has your students reading clues about the properties of shapes and then using their skills and knowledge to work out which shape it is referring to. Recording sheets are also included for easy marking.
11. Shape Mats
These mats are simple but will have your students practicing a variety of skills related to 2D and 3D shapes. When using these mats, students will build shapes, identify shapes, trace shape names and explore shape properties. The 2D shapes can be built with playdough or other small objects such as pom-poms, mini-erasers or blocks whereas the 3D shapes can be built with playdough (or for an extra challenge, toothpicks and playdough).
12. Building Shapes
I've left the most interactive activity last and I love it because it's another one that doubles as a STEM activity. Cards are included for building shapes out of playdough and for building shapes out of toothpicks and playdough. There are also cards that have students trace shapes and shape names.
If you'd like to check out these 2D and 3D shape games and centers, you can find them in this bundle below! Just click on the image or here to take a closer look!